3 minute read
As the AFLW considers how to honour her outstanding playing career, newly-retired great Erin Phillips will present the best-afield medal at the grand final.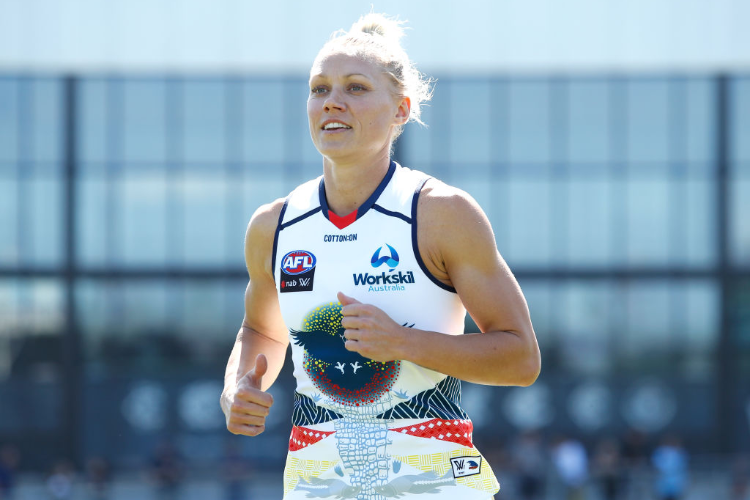 The AFLW is comfortable with opening its finals series away from the prime-time Friday night slot, arguing the weekend's back-to-back matches will draw in fans.
There has been plenty of discussion around the decision to start the finals on Saturday afternoon, rather than Friday night, with minor premiers Adelaide hosting Brisbane at Norwood Oval ahead of the night elimination final between Gold Coast and Sydney.
Sunday's schedule will open with Geelong hosting Essendon in an elimination final, followed by the mid-afternoon qualifying final between Melbourne and North Melboune at Victoria Park.
"We like actually having those double headers, we think it's a great opportunity for people to be able to tune in, match-after-match," AFLW boss Nicole Livingstone said at Wednesday's finals series launch.
"We take the feedback, but we think it's the right window to be able to have both games back-to-back.
"We're pleased with how the finals have panned out ... if we had put (a game) on Friday night, I'm sure there would have been plenty of people who would have said it's not good for kids.
"There would have been other reasons that people wouldn't have been happy with Friday."
Livingstone also announced a record season attendance of 234,525 - under the trigger the league needed for an extra round next season.
Only a couple of days after her stellar playing career ended, AFLW great Erin Phillips was announced as the presenter of the best on ground medal at the December 3 grand final.
Phillips won that medal in 2017 and 2019 as Adelaide won their first two AFLW flags - the same seasons she won the league's best and fairest award.
The league continues to deliberately take its time before naming either award after a former great, with Phillips and Melbourne's Daisy Pearce two obvious candidates.
North Melbourne star Emma Kearney will become another potential name when she retires.
"We're still growing the legacy and Erin's been retired all of about 36 hours," Livingstone said.
"Of course, we've had other amazing foundation players as well - Daisy Pearce retired 12 months ago, she's been an epic force in women's football as well.
"We hold our pen dry for that at the moment. We will take our time."
Phillips said it was a privilege to be considered as a candidate to have either award named after her.
"It's really, really special - I remember when (women's football pioneer) Debbie Lee presented me (with) with my very first one. It's a really nice reflection when you can perform at your best on the biggest stage possible," Phillips said.
Phillips and other retirees will be honoured at the grand final in a new AFLW tribute.
The 38-year-old Adelaide and Port Adelaide great is backing the Crows in this finals series
"It's really hard to see past Adelaide at the moment ... it wouldn't surprise me if the Crows are there at the end," she said.
With Adelaide until 2022, she co-captained the side to two premierships and played in a third, in her final season with the Crows.
Phillips was named All Australian three times and won Adelaide's best-and-fairest award twice.
She moved across town to Port Adelaide when they joined the league last season and captained the Power until her retirement.
Phillips played 65 games - 46 for the Crows and 19 for Port.