3 minute read
Harry Sheezel and other young North Melbourne teammates have had an insight into American professional sport during an AFL off-season trip.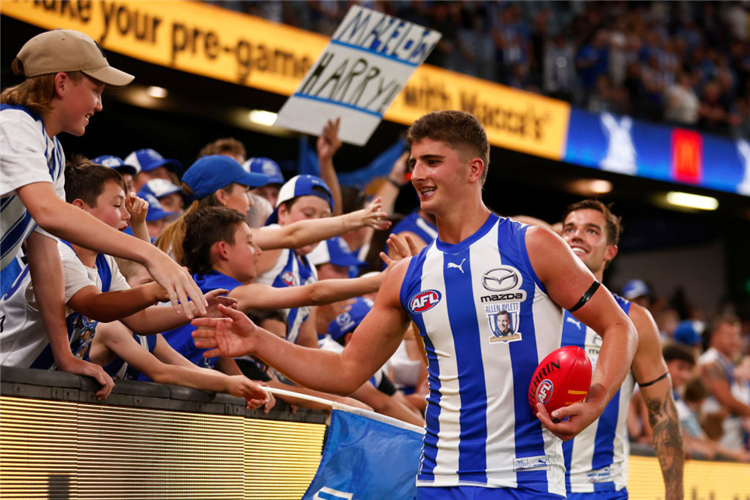 Nick Daicos and a working holiday in the United States have given Harry Sheezel inspiration as the North Melbourne young gun prepares for his second AFL season.
Sheezel and his teammates officially started pre-season this week, with the Kangaroos coming off another barren season that only featured three wins and a second-last finish.
The 2022 No.3 draft pick was a rare highlight for North, winning the Rising Star award and the club's best and fairest in his debut season.
Daicos, last year's Rising Star winner, showed the way for Sheezel by finishing third in the Brownlow Medal despite his late-season knee injury and playing a key role in Collingwood's grand final win over the Brisbane Lions.
"It's important to try to not drop off and back it up. What Nick did was incredible (this) year," Sheezel said on Friday.
"They were obviously able to win the flag, so to have some team success like that would be incredible - that's the main focus."
Sheezel and fellow second-year players George Wardlaw and Blake Drury went to the US in the off-season and through North coach Alastair Clarkson, they were able to have an insight into American professional sport.
"We did some amazing things with sporting clubs over there, like the Golden State Warriors - we met (Warriors coach) Steve Kerr, we had a good chat to him there in his office," Sheezel said.
"We did a lot of training out at Stanford (University) - that was incredible to go there every day and watch their college football program and their water polo.
"We were pretty fortunate to use those facilities and see how they train ... just the intensity they train at and the different drills.
"Clarko was watching and we were working out how we could apply it to here."
Sheezel said the early signs are promising, with North players "smashing their times" in time trials at the start of pre-season.
A move into the midfield looks inevitable for Sheezel, but he said for now he will continue to train as a half-back.
"We're still looking to work that out. I might start off half-back again, or just train there in pre-season for the time being, just see where it goes," he said.
Sheezel, who is Jewish, was keen to keep the questions at his media conference to football and away from Israel's war in Gaza.
He was subjected to online abuse earlier this year, but when asked if that was happening again, he replied "thankfully not".