3 minute read
Hawthorn best-and-fairest winner Will Day says star recruit Jack Ginnivan is settling in well at the club and will be 'awesome' for the Hawks.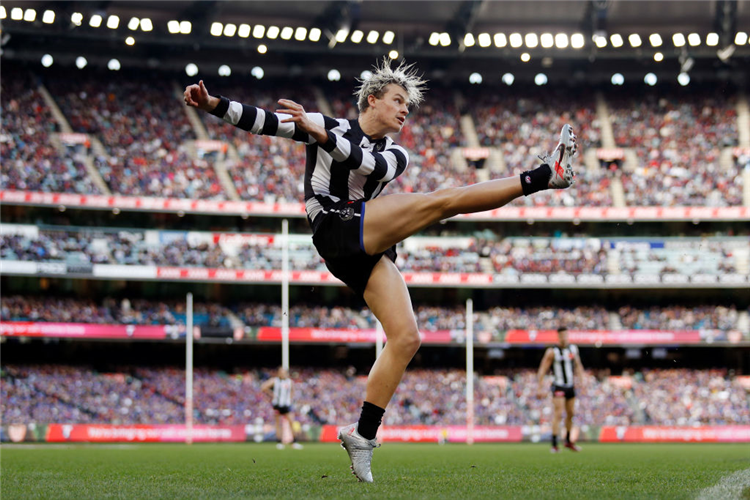 Hawthorn want high-profile recruit Jack Ginnivan to be himself on and off the field as they aim to maximise his undoubted AFL talents.
The small forward had his first official training with Hawthorn on Monday, with his start to pre-season delayed by a week because he played in Collingwood's grand final win.
Ginnivan has gone to Waverley as a proven goalsneak, but also with an off-field reputation.
He started this season with a two-game ban for illicit drug use and raised eyebrows by going to the Moonee Valley races on grand final eve.
Ginnivan's cheeky personality can also divide opinion.
New teammate Will Day says Ginnivan has hit the ground running at Hawthorn.
"He's going to be awesome for us ... (he's) in good nick. He looks like he's been putting the work in, which is really exciting to see," Day said of Ginnivan, who turns 21 on December 9.
"Around the club, I'm sure he'll be himself and we really pride ourselves on everyone being themselves - so that will be awesome.
"Sam (coach Sam Mitchell) is a big driver of that and everyone feels really comfortable around here."
Ginnivan is an obvious foil in the Hawthorn attack for veteran Luke Breust, who at 32 shone again this season with 47 goals.
"Footy-wise, just knowing where the goals are (is) pretty handy," Day said of Ginnivan.
"A few of our smaller forwards, their weapons are getting up the ground. So having him as a bit of a Luke Breust (protege) will be exciting.
"I reckon Ginnivan is a like-for-like. I reckon he (Breust) will take it with both hands and really help him come through.
"I've heard Jack speak previously about looking up to Breust. It will be good for him as well."
At 22, Day is also one of Hawthorn's younger players.
But after winning this year's club best-and-fairest award, the emerging midfielder is among their stars.
"I'm still scratching the surface of where I can go, having my first year in the midfield," he said.
"I still have plenty to learn.
"It's some recognition ... but coming back (to pre-season) it feels like that's in the past."
Day knows there will be far greater attention on Hawthorn next year as they try to build on this season's improvement.
While they finished 16th with seven wins, Hawthorn are a young side who look like on the right track.
"We are really excited, but we also have to know that now we'll have plenty more games with a lot more expectation," he said.
"It's something we probably haven't had a lot of, these few years. It's probably been a bit easier for us to beat a few better teams out of nowhere.
"That's going to be a challenge for us (next) year and going forward, if we're going to be a team that's at the pointy end of the ladder."