3 minute read
Last year, a NZ Herald editorial called Ian Foster "a decent man out of his depth". He's now one match away from steering the All Blacks to a fourth World Cup.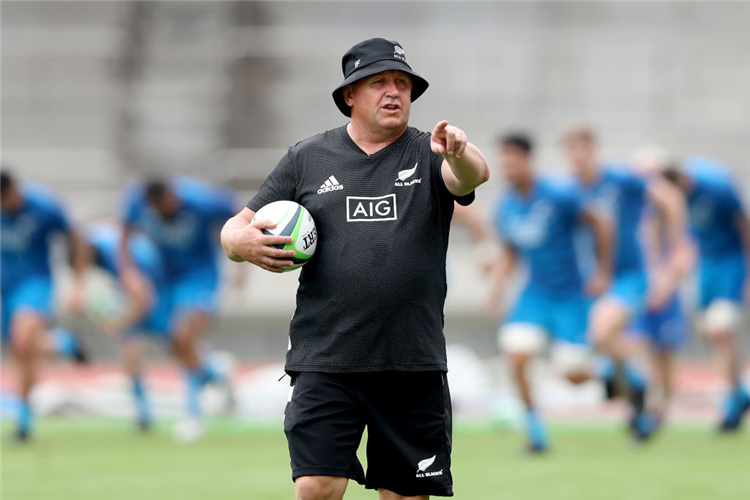 The Rugby World Cup final offers New Zealand and South Africa the chance to win a fourth title and become the greatest nation in the sport's modern era.
It also affords one participant, All Blacks coach Ian Foster, another flavour of sporting triumph: vindication.
Or perhaps, redemption. Even revenge.
Just over a year ago, Foster was yesterday's man, written off and lambasted after a rare run of losses from a team New Zealand respects only as winners.
The team was at a nadir.
Season-ending losses in Dublin and Paris were followed by a series loss to Ireland, the All Blacks' first home series defeat in three decades.
New Zealand Rugby (NZR) was in damage control: the team cancelled planned media engagements and stopped posting on social media for a week, fearing negative reactions.
When Foster emerged from witness protection for a three-minute press conference as shambolic as their on-field efforts, he spoke like a man resigned to an uncertain fate.
"There's no doubt I'm under pressure. But I'm always under pressure and I've always felt that pressure," he said.
Then came a 26-10 Rugby Championship loss to South Africa in Mbombela, their fifth loss in six, parking the team at their lowest ever world ranking of fifth.
The country's biggest-selling daily newspaper, the New Zealand Herald, was moved to issue a rare front-page editorial: "Ian Foster and the All Blacks: It's time for change."
"The Herald takes no pleasure in calling for him to go but Foster - a decent man who is out of his depth in a brutal business - must exit," the August 8, 2022, editorial read.
"It's the manner of the defeats that really counts.
"Foster's men are too easily put off their stride and too often cluttered and confused."
Kiwi outlets reported another loss in the following match against the Springboks would see Sir Steve Hansen's long-term assistant lose his job.
Instead, the All Blacks dug deep with a performance to save the 58-year-old's neck, a come-from-behind 35-23 classic at Ellis Park in front of 62,000 fans that prompted NZR bosses to pack in around the beleaguered coach.
Amid the crisis, the All Blacks never stooped to Wallabies-style lows.
Under Foster, the team won four Rugby Championships from four, and extended New Zealand's grip over the Bledisloe Cup into a third decade.
Still, the former fly-half was unloved by Kiwis who wanted change, and NZR - under pressure - offered it.
In March this year, they appointed Crusaders colossus Scott Robertson, a seven-time Super Rugby champion, as incoming All Blacks coach, effectively ending Foster's tenure at this World Cup - even if they finished world champions.
Robertson, much loved by Kiwis for his attacking, successful brand of rugby and his breakdancing after titles, agitated for that decision, flirting publicly with other national team roles, prompting NZR to sign him up.
Breaking with protocol, Foster gave an interview prior to the appointment urging NZR not to do so as it would offer a distraction to his players.
At the time, it appeared a sure thing the All Blacks would limp out of this World Cup against stiffer opposition.
That looked true as recently as last month, when they followed their worst-ever Test loss - a 35-7 humbling to the Springboks at Twickenham - with an opening night tournament loss to France.
Now they stand on the cusp of glory after four thumpings - of Namibia, Italy, Uruguay and Argentina - and an all-time classic win over Ireland in the quarter-final.
"It's fantastic," Foster told Newstalk ZB on Friday, deflecting his personal struggles to instead praise his team.
"I know we've walked a bit of a journey. That's life.
"What that has done is build this team's character. A bit of adversity has never killed anyone as long as you don't sulk about it but you roll your sleeves up and get stuck into it.
"I know we've surprised a few people by being here but we haven't surprised ourselves.
"We're where we need to be right now. I'm excited about the group and what we have achieved.
"We just want to go and play in a pretty special occasion and play the game we want to play. That will hold us in good stead."
Foster, a quietly-spoken salt of the earth type, offered no hint of personal slight as he prepared for the showpiece match.
Instead, New Zealand's top rating broadcaster Mike Hosking gave the alternative storyline full voice with his editorial on Friday.
"If Foster wins this, how good is that story?" he said.
"Bagged, bullied, treated abysmally by his employers, and yet victorious.
"The best in the world ... and a massive middle finger he is far too gracious to expose for a period of his career he never deserved, and must have wondered at times if being a tall poppy in a country that hates tall poppies, whether it was worth it.
"The redemption story to beat them all."