3 minute read
Racing and Sports look back on Day One and on to Day Two of the Royal Meeting.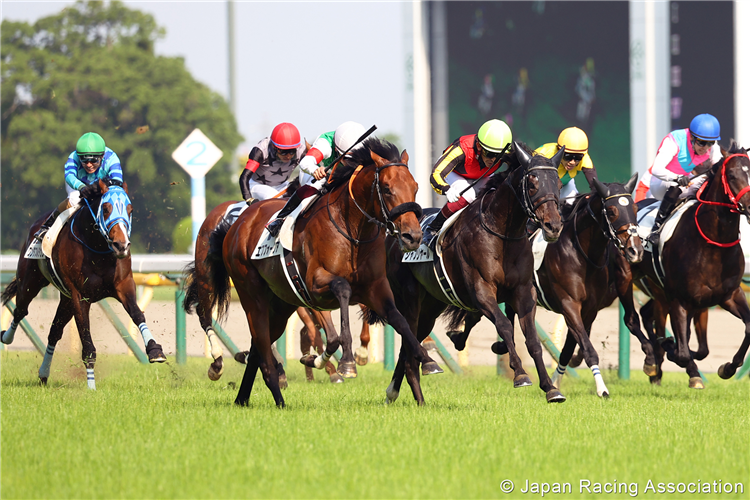 Annnd breathe... Day Two of the Royal Meeting is a slight steadier following the three Group Ones that led us off on a memorable Tuesday for the sport.
The week opened with not one but two performances that can (and should) be rated 130 or slightly better - slightly better being more fitting (statistically) for Baaeed than Nature Strip.
The former slightly outran the latter against the clock (the only real competition for either of these world class beasts) but Nature Strip posted a globally significant piece of form; the 4.5 length margin the widest in the King's Stand this century and 3.75x the average winning margin in that time.
It is also Nature Strip's most decisive winning margin in 28 starts, dating back to his six-length pounding of Sunlight in Adelaide back in 2018 - a simpler time when we hadn't heard of COVID and Lee Freedman was labelling Nature Strip a joke.
An average of the winning Racing and Sports Ratings across the three Group Ones (132-131-119) shows the punch this day packed.
By this measure it matched the average rating of Ribchester (126), Lady Aurelia (131) and Barney Roy (125) in 2017 and has only been bettered once this century, essentially at the hands of one horse; Frankel doing all the heavy lifting in 2012.
This despite Coroebus scrambling home in a messy St James Palace. Baaeed and Nature Strip did the heavy lifting this time and provided the sport with an hour at it's absolute prime; but there is so much more to come.
Just as Day One's embers began to cool, Dubai Future ignited Day Two, hammering a competitive Wolferton field by the biggest margin since 2004 and by three times the average winning margin since. He did so carrying the formlines of Bay Bridge and Shahryar, the two at the front of house for Wednesday's party piece - the Prince Of Wales Stakes.
Only five go to post - three runners shy of the ten-year-average - but that takes little away from this cosmopolitan contest.
Bay Bridge plays for the home team and he runs as one of Sir Michael Stoute's famed four-year-old improvers.
That Stoute has a good record with four-year-olds is trite; but it is true. A quick enquiry to the Racing and Sports database - Stoute four-year-old Group winners from the last 10 years - shows as much: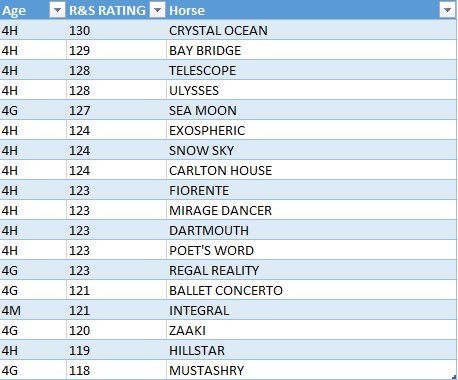 Some set! Bay Bridge's standing in this set speaks volumes to what he achieved at Sandown and what he is expected to achieve at Ascot and beyond.
He's made for the Premier League and in Stoute he has the manager to draw the best from him.
Stoute has run four from this list in the Prince of Wales for two winners - Crystal Ocean and Poet's Word; ratings north of 130 for both. Bay Bridge sits on the cusp.
Bay Bridge beat Dubai Future by twice as far at Sandown as Shahryar did in the desert of Dubai (1.93 times if you want to get technical) but this assumes that all lengths are created equal; a big assumption and one that falls flat on it's face when put to the test.
The Japanophiles will tell you they just win everything these days. They are not entirely wrong. When the racing world has come together for these big international meetings in recent times the Japanese have held court.
Shahryar's margins at the Meydan may have been compressed but those margins are a function of pace, time and topography. He had Hukum and Alenquer among a deep beaten set behind him at the Meydan. Both have gone on to win Group Ones in Europe this season, the latter beating Lord North and State Of Rest around the Curragh, and they are nothing like Shahryar's biggest scalp.
That scalp belongs to Efforia; not at this fabulous festival in flesh but he is here via proxy. Efforia was repelled by Shahryar in the world's richest Derby at Tokyo in 2021 before he went on to win what (for anyone with a clock and a clue) was the best race run anywhere in 2021; the Tenno Sho (Autumn Edition).
To stare down Bay Bridge on his home patch is a task beyond most but Shahryar ain't most and he steps out knowing he has taken out a 130-bomber before.
Aussies will be hoping the Cox Plate winner, a true horse of the world running in his fifth Group One in a fifth different country, can give a good account and he can.
Only once in that time since So You Think has Aidan O'Brien not had a runner in the Prince Of Wales, so often destination number one for his premier established star. That was in 2015 and the Irish won it anyway, Free Eagle landing the prize for Weld.
But Joseph and his multinational dreamboat brings Racing and Sports Ratings of 118-123-123-121. Consistency doesn't win these races. Big performances do.
Bay Bridge has that with his last-start 129 and Shahryar is holding a pair of 125s.
So who wins and how often? Ultimately that is what matters. Let's throw these ratings into the Magic Monte Carlo Machine for the (one possible...) answer.

It's Bay Bridge who wins most but the juice is Japan. Either way its a clash to savour. Small in numbers, large in significance.