3 minute read
Racing and Sports look towards day five of Royal Ascot - headlined by the Platinum Jubilee Stakes.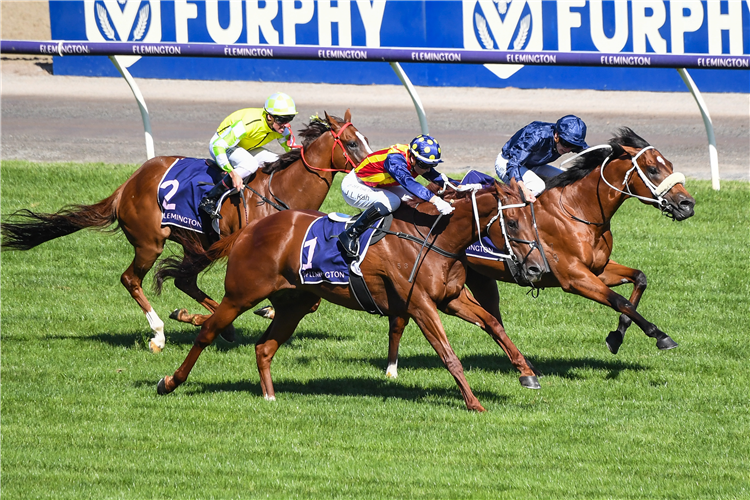 "...We shall defend our island whatever the cost may be; we shall fight on beaches, landing grounds, in fields, in streets and on the hills. We shall never surrender and even if, which I do not for the moment believe, this island or a large part of it were subjugated and starving, then our empire beyond the seas, armed and guarded by the British Fleet, will carry on the struggle until in God's good time the New World with all its power and might, sets forth to the liberation and rescue of the Old."
Churchill's famous words came as Britain faced invasion in the summer of 1940. Operation Dynamo saw over 338,000 Allied troops evacuated from Dunkirk. The enemy were on the doorstep and Churchill was making an impassioned plea to the Americans for help; highly industrialised America had the weapons to repel the Wehrmacht.
The American response wasn't immediate. Wesley Ward and Irad Ortiz Jr turned up with much vaunted weapons to help stop the invading Aussie sprinters (yes at this point it becomes clear that in this tortured metaphor Nature Strip is something like a Panzer and Chris Waller won't like the role that he is cast in...) but their landing on the sand-based beach that is Ascot began with an unsuccessful operation.
But "you can always count on the American's to do the right thing - after they have tried everything else."
Britain's hodgepodge crew of hit-and-miss sprinters were defenceless against Nature Strip as Golden Pal, the fighter jet from the States, failed to take flight. But now, as they stand facing a second wave, a younger brigade of three-year-olds in Home Affairs and Artorius, it is again the Americans - Ward, Ortiz and Campanelle - who stand on the front line against Australia.
Bookmakers are on the retreat, Home Affairs trades at only a fraction better than 2/1 in a field of 27. Artorius, beaten in his last eight at home and a winner of just two overall, has only three ahead of him in the betting.
Campanelle is another to use Keeneland in April as a springboard, but from there comparisons with Golden Pal end. Campanelle has less flair in the figures (a Racing and Sport rating of 120 against Golden Pal 125) but more reliability in the record.
Golden Pal is now 0/3 in the UK while Campanelle has won at the last two Royal Meetings; the Queen Mary in 2020 and the Commonwealth Cup in 2021 - albeit with steward's assistance.
Campanelle disappointed in October but was back around her best off a break last time and hits this in form; form that reads 120-96-106-119 in Racing and Sports' eyes.
But what is that form worth? And where does it stack up against the Australian duo? To answer this we go to Monte Carlo.

A weighted distribution of recent ratings plucked at random sees Campanelle split the Aussie pair in this race within a race; she wins one battle but she doesn't win the war.
Those Aussie arrays are as follows:
Artorius: 119-112-103-108
Home Affairs: 112-125-126-104
The fate of the race is entirely at the mercy of that 1-2 punch in the middle of Home Affairs' array.
125 in the Coolmore (Artorius in behind) and 126 in the Lightning where defeat of Nature Strip reads obviously well despite the poor luck of the world's best on that day.
Choisir was a three-year-old when he won the Jubilee and since then six others have tried for two winners; Starspangledbanner and Merchant Navy.
That pair were both switched to attack from the western front, under the guidance of General Aidan O'Brien from Ireland. Both were Coolmore owned, as Choisir soon would be, and like Home Affairs is now.
The Coolmore connection isn't the only connection. A rating of 126 on sailing from these shores connects Choisir, Starspangledbanner and Home Affairs. Merchant Navy went rated 121 but was soon 126 himself.
Of the seven Aussie three-year-olds to march on the Jubilee, four went in having crossed the 125 frontier en route.
Choisir, Starspangledbanner, Merchant Navy and Brazen Beau. Three winners and a narrow second, the US and Ward stopping Brazen Beau by the narrowest of margins with one (ironically) called Undrafted.
Star Witness (rated 124), Wandjina (123) and Holler (123) didn't quite have the ammunition and were sunk; third, sixth and seventh their honours.
For those looking to history to provide the answers, Home Affairs fits the mould for success near perfectly.
The introduction of the Japanese, with a horse named Grenadier Guards, makes returning to our woeful metaphor of war very tempting but we will (ironically) resist and leave it to say that a rating of 121 gives him hope; a hope that is plausible rather than probable as that peak stands between lesser efforts when tried at the top which he looks a cut below.
Grenadier Guards is a Group One winner at two but that was at a mile, as was his placing in his three-year-old spring, and to label him a Japanese Artorius seems obvious but reasonable.
We've been dismissive of the home defence here but that may be unfair.
The best piece of sprint form in England this term is represented by one that stopped the clock much quicker at York than any of those who fell apart at the mere sight of Nature Strip had in their pre-Ascot trials.
The Duke Of York has a strong correlation with the Jubilee at Ascot. Starspangledbanner took that path and since him three winners in the past 10 years followed by five other placegetters. This year's winner, Highfield Princess, can count herself a good winner having put up the biggest winning margin in the race this century.
The time was fast, as one might expect, and that saw the field strung out across the Knavesmire. The margin to fourth a record as well and by more than three times the average. This was a dominant display, and one that reads well. Highland Princess took the chasing pack through hell at York but can she keep going to Ascot?
For the sake of a tip (and it's a tip, not an assorted lot of paraphrased war quotes that punters want I am told...) it is a case of the further backward we look the further foward we can see (yes more bad plays on Churchill quotes...). Look far enough backward to the edge of the screen at York and there was one that can be backed to repel the invaders at Ascot.
Minzaal had run twice in 20 months before York and such a high pressure contest was asking a lot. He has stood up in this theatre of war before. The British Champion's Sprint seems an oxymoron these days but Minzaal was as good as any there with the most to look foward to in the future. That future is now and better than 16/1 appeals.
This week at Ascot has marked the return of Australia to international competition and it has provided a welcome relief in the racing news from constant talk of administrators and economics. It is racing the sport not racing the industry that inspires the punter and so on that front (keep the quote ball rolling now...) let's hope that this is not the end. Not even the beginning of the end. But, instead, the end of the beginning.