3 minute read
Trainer and jockey quotes after Tuvalu takes out the Listed Penfolds VRC-CRV Winter Championship Series Final at Flemington on Saturday.
Race Result:
1st: Tuvalu (J Fry/L Smith) - $2.20F
2nd: Sir Davy (E Brown/C Maher & D Eustace) - $6.50
3rd: Mystery Shot (B McDougall/L Smith) - $15
Winning Time: 1:37.45 Last 600m: NA
Margins: 2 Lengths x 1-¼ Lengths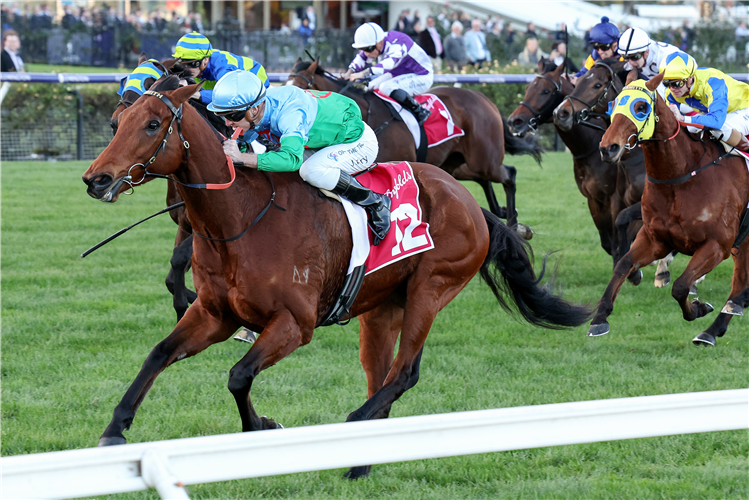 Tuvalu is in HOT form @LSmithRacing pic.twitter.com/laE0rIRjn6

— 7HorseRacing (@7horseracing) July 2, 2022
Winning Trainer: Lindsey Smith (stable rep Shane Jackson speaking)
On Jarrod Fry's ride: He has a lovely high-cruising speed and Jarrod used that. He knows him now, he crossed without putting him under any pressure but he was putting others under pressure and he rode him out hands and heels as long as he could.
"We thought he may have lay in a little bit last start resenting the whip so he rode him out hands and heels as long as he could and it really worked.
"The heart was beating for a while pre-race but it was a pretty comfortable watch."
On comparisons with Smith's other Winter Championship winner Reykjavik: "This fella is a better horse than Reyjkavik. We have spruiked him, but Lindsey is a very good judge and from day one we thought this was a good horse.
"We probably spruiked him a bit much and got disappointed, but he'll go for a rest now. It's a credit to Lindsey and the great team we've got at home. We've only a small team but we do a pretty good job with the small team that we have to play on these days.
"We've a great supporter in Chris Wells and Brad Spicer and the likes, it'd be just great if we could get another good supporter along the line, some of the big studs or connections that are watching and think we're doing not a bad job.
On whether he could contest a Champions Mile later in the year: "I'll leave that to the brains of the operation, Lindsey will be sitting at home making a plan, but I do know that he'll go for a rest now.
"The horse is still developing, Wellsy had a look at him pre-race and he said, 'gee, isn't he going to be a nice horse in another bit of time'. He's growing and strengthening, but we'll take it step by step."
Winning Jockey: Jarrod Fry
On how the race panned out: "The horse has got a high cruising speed anyway, so it didn't worry me to have to do a little bit of work because it got the horse into a really good rhythm and I was pretty confident a long way out."
On being a part of the Tuvalu team: "I'm just happy to go along for the ride. Lindsey's got great staff working for him, he's been around the block a few times, he knows what he's doing, he'll pick the races out. He's the trainer and I'll do the jockeying."