3 minute read
Trainer and jockey quotes after Claidheamh Mor claims the Metcap Finance Victorian Country Cups Final at Caulfield on Saturday.
Race Result:
1st: Claidheamh Mor (C Hefel/G Rielly) - $7
2nd: Red Sun Sensation (C Williams/P Moody & K Coleman) - $5.50
3rd: Captain Envious (J Mott/P Preusker) - $14
Winning Time: 2:02.58 Last 600m: N/A
Margins: ¾L x ¾L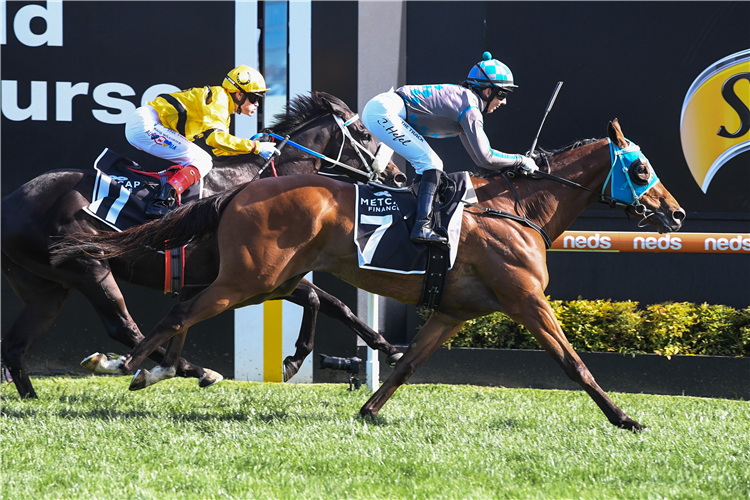 Where's @geerielly?

Claidheamh Mor takes out the $500k Victorian Country Cups Final pic.twitter.com/lDwowsCTnT

— Racing.com (@Racing) November 18, 2023
Winning Trainer: Gemma Rielly
"It is amazing. He's a warhorse. It is his ninth win - his 11th start this preparation. What a jet.
"These horses just turn up when you need them to turn up. People on the outside would have looked and thought it is his 11th run in the prep.
"My nan is here and my twin brother who has never been to the races and seen what I've done. Nan is really ill so this is so good.
What it means as a young trainer: "This is great. To come back here to Caulfield, I haven't been here for a social day. I think I brought Joe Pride's horse Mariamia here but I haven't brought my own horse here since we left training (here).
"To win a big one where I started training, oh."
What makes a difference: "He gets a lot of paddock time, he's not in the boxes a lot.
"You've got to keep him in a routine. You must ride him at 4am. I'm getting up at 2:30am. You have to play to his strengths.
"He's a bit autistic and quirky. He's not normal but I'm not normal and that is fine.
What it means for her stable: "Prizemoney is excellent. It is going towards a house. The staff will get a kicker clearly.
"I'm going to New Zealand to buy Ready To Runs, I'll go to Magic Millions. It will give me more ammunition to get more horses.
"I never wanted a big stable but I do want to buy better quality horses. He was only $55,000 and the horses I'm working with are $20,000 to $60,000. I'd love to go and buy a nice $200,000 and see what I can do with it."
The ride: "Carleen has been great. We gave her awkward instructions at Sandown when he won on teh Heavy 9. They were out there, she's still an apprentice and I'm a small trainer. I thought, hmm, is she going to listen and if we didn't pull it off she would have looked like a fool.
"I got a lot of respect for her then when she listened."
Winning Jockey: Carleen Hefel
"We click (her and Gemma). She does give a few instructions but when you get it right she's the loudest one cheering.
On the run: "We didn't get the Moe Cup but we came here with a system. We had cover, had no cover, had cover and in the end we riding him in his own way.
"Like he was at Moonee Valley , he was too strong."