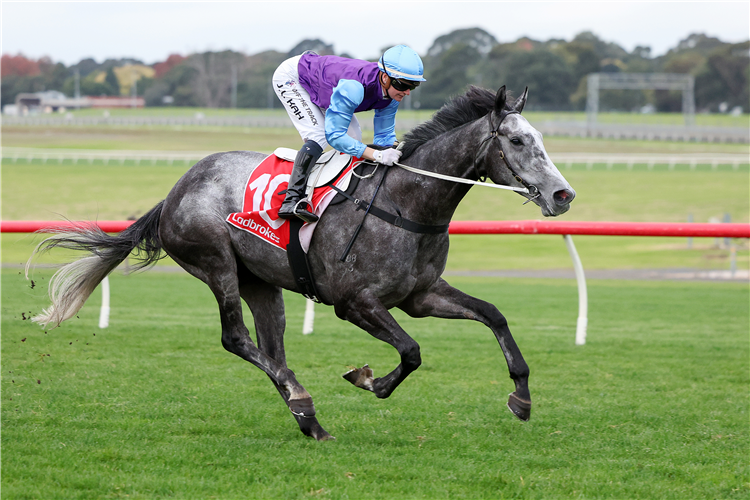 It was hard not to walk away from last week's selection feeling a little hard done by; Cardinal Gem stopped in his tracks and nearly put through the fence at the time when he was ready to assert himself on the contest.
Alas, that is the game. Our headline horse from a week prior had no such bad luck; Visinari was backed to improve - in part - because of a wide draw rather that despite it. And improve he did, running exactly the race we had hoped for and bet on, only to find one better; the Maher and Eustace trained Sir Davy good enough to keep on keeping on and post a big career best to win in the best rating on the day.
Both Visinari and myself can claim to know just how hard a nut Ciaron Maher and David Eustace are to crack. But I am persistent and I hope Visinari is too. He goes again this week and prices better than 2/1 will be enough to tempt the Melbourne Mail to go again with him.
"Once more unto the breach, dear friends, once more!"
Again, the shadow of Maher and Eustace hangs over us. Kipps was terrific first up in Australia, and will surely win better races than this one, but I suspect (and hope) that he will be looking for further than the mile soon enough. As soon as Saturday would be nice...
Maher and Eustace also saddle Eaglemont at the front end of betting, and he arrives off a win and a career best of his own, but Visinari has run faster than him and should have his measure again all being well. The same could be said of Chief Altony, though he gets a nod off the head for his work late on on the Lakeside just 10 days ago. He's clearly as well as he has ever been but Visinari sets a higher bar.
This all makes for a deep and intriguing handicap but it can't lay claim to being the best race on the card. That honour must belong to the last, where several rated higher than 110 go to post, but it is the race that splits that pair of strong handicaps that catches our each-way attention.
Jigsaw and Beehunter are racing well while Sig Positano ties them together and does so while landing in a good spot himself. The way they are arranged in the betting seems right and that gives us a clear and obvious target to shoot at.
It's a target that a couple of these are well up to hitting. One of them is Umgawa who appeals as an each-way gamble worth taking coming through a race in Adelaide that has been working out really well - no less that four winners pouring out from behind Illation, a star on the rise.
Umgawa could be considered best of the rest there having been too far back in the run; an Illation-matching last 200m in vain.
He had been similarly sharp late on at Flemington the run prior when a muddling tempo brought him unstuck. That lack of early pace is a problem, and he is back to 1300m here which may compound that (there are flaws with double figure shots it is true...), but the blinkers go on in attempt to sharpen him up and that sign of intent from the stable is attention grabbing.
Umgawa is a well-handicapped horse and looks as good a chance as the favourites. The other that needs mention is the UK import Ascension who has some wide margins defeats in the book, which might not look flash at a glance, but has generally contested some of the hottest handicaps in Britain. He's good enough if ready and runs for that yard again...
THE MELBOURNE MAIL
Bet Of The Day: Race 7 #3 Visinari @ $3.00
Each Way Play: Race 8 # 18 Umgawa @ $10.00