3 minute read
Movers & Shakers - Racing and Bloodstock Manager for Gerry Harvey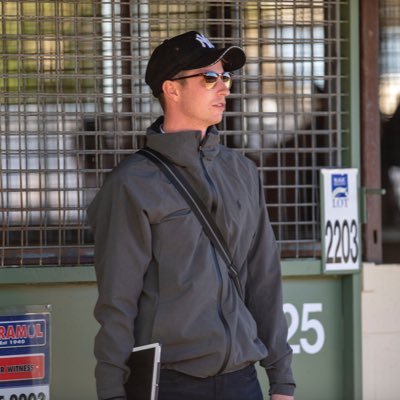 Luke McDonald
Racing and Bloodstock Manager for Gerry Harvey
Age: 27
How did you get into the industry?
Very cliché, but I was fortunate enough to be born into this wonderful industry with a family that was involved in both breeding and racing. My mother and father operated a horse training business in the beautiful town of Cambridge in New Zealand, where it was strange if you weren't involved in the game one way or another. My earliest memories are of myself and my brother working on the farm and that's where my love for the game was fostered.
What was your first job in racing?
Fortunately, being born into the industry I would consistently work on the farm, riding and feeding the horses before and after school but my first 'paid' job was at Windsor Park for Rodney and Nelson Schick. It was beneficial for me to work for someone outside the family and learn how a large breeding operation worked and understand how vital those formative stages are for a thoroughbred. I worked full time at Windsor park until I went to university, but continued to work at the stud foal watching during the night for extra money.
What is your first racing memory?
I could write a book on my early memories in the industry. From my mother Dianne (a talented equestrian) teaching us how to ride, to my father, Brett taking me out of school to road trip to Trentham races. The memory I cherish the most, would be travelling to Te Rapa races in the truck and socialising with all the participants in the stalls using the fundamentals my parents taught us, a firm handshake, eye contact and smile. After a big day at the races both my brother and I would sleep all the way home.
Who has been the biggest influence on your career to date?
I have a lot of people to thank for the opportunities I have had and it's hard to go past my family, especially my brother James who has kept me focused throughout my life. Outside of family it would be Gerry Harvey without a doubt. The knowledge and time he has given me is irreplaceable, not only within the industry but he has broadened my knowledge as a whole. Teaching me how to run an efficient business using my own ideas and including my in every decision the business makes. I think working for a man who is influential worldwide really drives you to be a better operator.
What is the one job you would like and why?
It is a competitive industry with huge opportunities, and I like to think I have more to learn and achieve. The position I am in now sets me up nicely for a managing director role for a large company which I would love to strive for.
If there is one thing you could change about the racing / bloodstock industry in Australia what would it be and why?
It has been well documented by the bigger identities in racing that we need to change the hours participants work within the industry. Not only does working unusual hours affect your health but it is important to change for the longevity of our sport as it is becoming harder to entice new people to work within the game.
What do you think racing could do to attract more people?
The younger generation are the future of the sport and for them to enter we need to promote and educate. Not all those are lucky to be born into the industry as I was, so making it more accessible to anyone interested is imperative! I also think the micro syndications could be a great tool to entice a younger participant with an average wage to become involved within the industry. They will experience the emotional roller coast of the racing game without the big financial output. It would encourage them to get on track and enjoy the owner experience which will of course boost the wagering.
What effect do you think the ongoing Covid pandemic will have on the Australian industry?
I think a lot of people are remodelling their business to make them run more cost effectively, but as it becomes difficult to travel and entertain, technology has become essential. The old and new participants have adapted well, generating better communication with the owners and punters. As we broaden our business, we create new jobs within the industry.
Opening international borders to foreign workers is paramount, not only from an international buying point of view, but I am seeing staffing issues occur throughout our industry as we rely on overseas travellers to work.
If you didn't work in racing what would you do?
I have always had a strong interest in the property industry and being around Gerry that passion has grown.
Your favourite racehorse of all time?
A childhood racehorse called War Dancer which my father trained. He had so much presence and charisma that most people were drawn to. Funnily enough I tracked him down the other day and he's now 22 and only just retired from Pony Club!