3 minute read
Peter Snowden ventured to Moonee Valley to see two-year-olds Alpha One and Winnertakesitall score.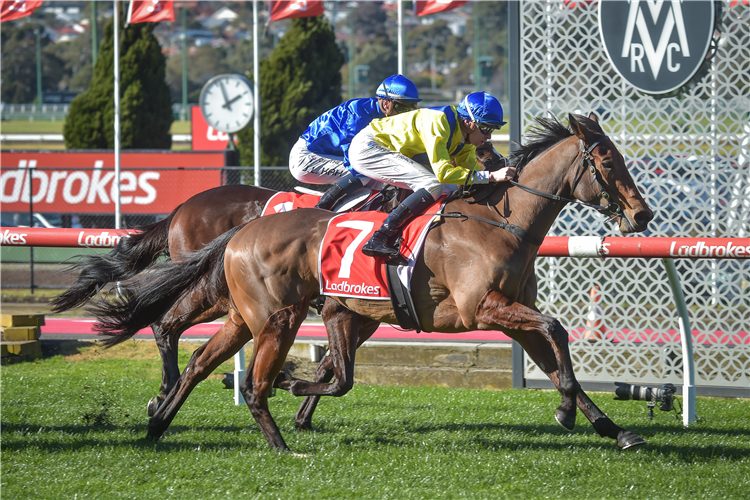 The Peter and Paul Snowden stable completed a clean sweep of the final two-year-old races in Melbourne when Winnertakesitall scored at The Valley.
And Peter Snowden said the win of Winnertakesitall in the Ladbrokes Mates Mode Handicap (955m) on Saturday was extra special for two part-owners of the filly.
"Brian Walsh, he's not well at all," Snowden said.
"He and Betty were owners in Redzel and they have been with the stable for quite a while and have always had a horse with us.
"And when I bought this filly, they jumped in an wanted a share of it, but he's had three heart attacks in a week.
"It's not sounding good, so this would be like a new heart for him now."
Ridden by Michael Dee, Winnertakesitall ($4.80) ran down the $3.90 favourite Bistro in the straight to by a long neck with Va Via ($9.50) running on from last, a length away third.
Snowden said Winnertakesitall, who followed the win of stablemate Alpha One in the Luna Hand Care Handicap (955m) a race earlier, was sent to Melbourne to escape the wet tracks in Sydney.
"She trialled brilliantly about three weeks ago but she's not a real wet tracker and I saw this race pop up, Moonee Valley, it doesn't get too wet," Snowden said.
"She's a nice filly, she's very genuine, but she's still very small and immature and there's more thickening up to come
"But she's very talented, very genuine and I'm sure that won't be her last win."
Snowden said Winnertakesitall was likely to have one more start during the early spring.
He said that could be in Melbourne, but if the tracks dry out in Sydney she may head home.
"She's got a good pedigree and a good will to win and I'm sure she'll make a name for herself later on," Snowden said.
The Winnertakesitall

A running double for @SnowdenRacing1 as the Snitzel filly mows down Bistro @mickdee020 pic.twitter.com/TbssgxZlxx

— Racing.com (@Racing) July 30, 2022