Type atleast three letters to find.
Takarazuka Kinen
Japan | FEATURE RACE GUIDE
History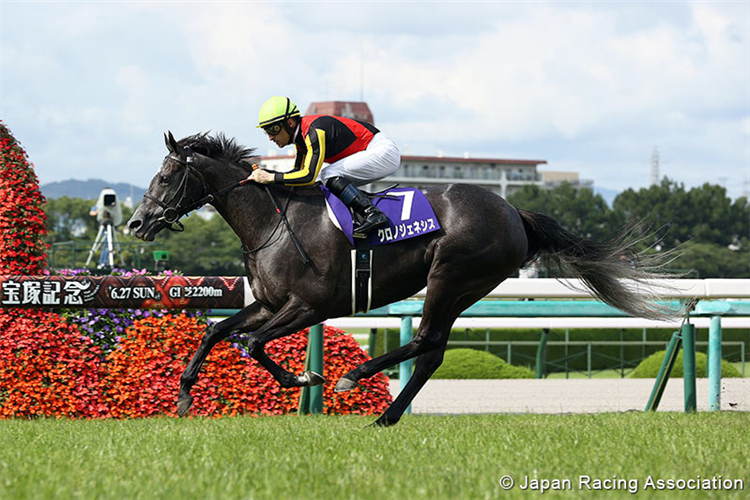 The Takarazuka Kinen is a Grade 1 race run under Weight For Age conditions for three year olds and above at Hanshin racecourse conducted by the Japan Racing Association.
The Takarazuka Kinen is run over 2200m. It was first run in 1960 and won by Homare Hiro.
It is one of the two 'All-Star' races in Japanese horse racing along with the Arima Kinen. The majority of the runners in the field are selected by a vote from racing fans, while the remainder are determined by the amount of prizemoney won.
When first run it was over 1800m. From 1961 to 1965 the race was run over 2000m and since 1966 it has been run over its present distance.
The race is named after the city where Hanshin Racecourse is located.
The Takarazuka Kinen was worth JPY432,000,000 in 2022.
Hanshin racecourse is a right handed course with the start at the top of the home straight.
The 1995 and 2006 Takarazuka Kinens were run at Kyoto.
The five year olds won six runnings of the race in a row prior to 2020. They won again in 2021.
Deep Impact took it out during his 2006 season where only the Arc was a defeat. It was a top win down in trip off the Tenno Sho (Spring).
The big grey Gold Ship could do some weird and wonderful things but he did win this race twice.
After winning the Hong Kong Vase the previous December, Satono Crown won the Takarazuka Kinen in 2017.
Lys Gracieux, winning in 2019, gave Australian jockey Damian Lane another G1 during his Japanese stint. The horse would be invited to the Cox Plate after this win and would superbly take the race out coming from near last. She repeated that in the Arima Kinen.
After taking the Takarazuka Kinen in 2020, Chrono Genesis finished the year with an Arima Kinen victory of her own. She won the Takarazuka Kinen again in 2021.
The jockeys have spread this race around with Ryuji Wada winning it 18 years apart following the great TM Opera O's win in 2000.
Trainers shared it around too but Yasutoshi Ikee is a trainer with a couple of wins in the last decade including the sometimes unbelievable Orfevre.
Notable winners of the Takarazuka Kinen include Titleholder (2022), Chrono Genesis (2020/2021), Lys Gracieux (2019), Satono Crown (2017), Lovely Day (2015), Gold Ship (2013/2014), Orfevre (2012), Admire Moon (2007), Deep Impact (2006), Sweep Tosho (2005), Tap Dance City (2004), TM Opera O (2000), Grass Wonder (1999), Mejiro McQueen (1993), Katsuragi Ace (1984), Haiseiko (1974) and Shinzan (1965).
The 2022 Takarazuka Kinen was won by Titleholder from Hishi Iguazu and Daring Tact.

Previous Takarazuka Kinen Winners