3 minute read
Timeform, with a little help from Charles Dickens, recap the Australian Guineas won by Hitotsu and the Randwick Guineas won by Converge.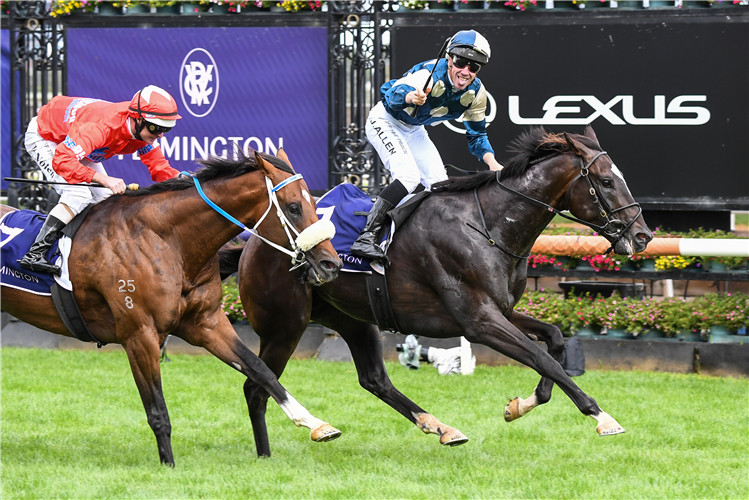 A Tale Of Two Guineas
It was the best of times: The Randwick Guineas won by Converge returned the strongest timefigure on the card.
That is to be expected from a couple of top colts fighting out what should be regarded as a vintage edition of the race. Converge ran to a Timeform rating of 123 and Anamoe 122 - both above the typical winning standard for the Randwick Guineas.
Good times mean good results and this was one with the three top raters pulling clear. The margins to fourth and fifth were the largest in the history of the race which has been run in its current form since 2006. The margin to fourth was twice the average in the timespan and the margin to fifth a bit better again.
It was the worst of times: For backers of Pinstriped...
Dear oh dear; when trainer Enver Jusofovic finally comes around and gets up off the floor he will at least be pleased to know that he has in his care a horse good enough to be beaten just four lengths in a good Australian Guineas despite spending the second half of the race aquaplaning sideways...
Pinstriped, who was rated 114 off the Hayes, regressed to 108 but surely would have been closer to the 120 mark that Hitotsu recorded winning the race had he had a fair crack at them. A case for the Timeform 'P' if ever there was one!
It was the age of wisdom: But not wisdoms of the homespun, conventional kind. Not with Ciaron Maher and David Eustace anyway.
Straight from a mile to a mile-and-a-half? Don't worry about it - Derby in the bag with a big new peak.
High-pressure Australian Guineas first up? Sweet. Stress less. Another new peak. Hitotsu is now rated 120, basically bang on the rolling average for Australian Guineas winners.
And it would be a large surprise if a rating of 120 was his ceiling. Whatever path his stable chooses, however unconventional, he can be trusted to turn up at the top of his game in this, the age of Maher and Eustace.
It was the age of foolishness: Suggestions that Anamoe had dented his reputation in the Randwick Guineas seem well wide of the mark.
Anamoe was the fastest finisher, and notably so, in a good Randwick Guineas. A rating of 122 is better than what it has typically taken to win the Randwick Guineas and is only a pound shy of his 123-rated peak.
Perhaps it is that too much is being expected of Anamoe. He is a top notch horse from 1200m to 2040m; off slow and fast tempos and on ground ranging from good to heavy. A damn fine horse indeed; but in the near decade since the 2012/13 bumper crop headed by All Too Hard (rated 129), Dundeel (129) and Pierro (128) there have been 17 colts rated higher than Anamoe at 123.
Anamoe doesn't have the towering peaks of the big sprinting colts of that timeframe. The likes of Bivouac, Flying Artie, Astern, Exosphere and Trapeze Artist had peaks at 126-127.
He also sits shy of fellow Caulfield Guineas winner The Autumn Sun (rated 126) and fellow Cox Plate second Castelvecchio (124).
Shamus Award won a Cox Plate (rated 124) and an Australian Guineas and other Australian Guineas winners Wandjina and Alligator Blood were rated on a par with Anamoe at 123.
Anamoe isn't the top rated colt of his generation either. That honour has belonged to Home Affairs since the Coolmore where he ran to 125 and he backed that up with interest running 126 in the Lightning. And now he has Converge joining him at 123 and Hitotsu will be there in a heartbeat...
But what Anamoe has over that group, his schtick if you like, is his versatility and his consistency. Anamoe has now run to 120 or higher five times. Of all those gun colts mentioned only Bivouac has been above 120 more often - and the last two of those came after his three-year-old season.
This is something that deserves high praise. Anamoe shows up to every fight and he runs his heart out. This depth of ratings should be celebrated every bit as much as their height.
For the record, Pierro finished his three-year-old season having run 120 or higher 11 times. What a tank.
It was the epoch of belief. It was the epoch of incredulity: But how much belief do we place in the run of Bon's A Pearla?
The Australian Guineas was a high-pressure race. There was nowhere to hide and no way to cheat. And so Bon's A Pearla splitting Lightsaber and Forgot You in third has to be taken at face value. If we think this is a strong Guineas then we have to think hers was a strong run. They are bound as one.
A Timeform rating of 110 makes her performance a match for the 1000 Guineas winner and the Flight winner from the Spring and only Espiona, Fangirl, Hinged and Startantes sit above her among three-year-old fillies.
That is a big spot on the list for a filly that has never started shorter than 14/1 (when winning her maiden) and has been 20/1 or bigger in her past five. Bon's A Pearla is likely to press on to Sydney now where this rating will give her a much better chance of winning a nice race than the Sydney betting ring is likely to give Ken Corstens' untrendy Bon Hoffa filly.
Believe the rating or does the SP profile leave punters incredulous?
It was the season of Light, it was the season of Darkness. It was the spring of hope, it was the winter of despair: Oh Profondo - where art thou at now? So much hope from the spring; three starts in and already a Group One winner, rated 118+. The very same mark as Hitotsu. And now... Despair.
Things hardly set up for Profondo at Flemington. He was left working wide into that strong tempo and the exponential effect of pace hit him right between the eyes when the heat really went on.
Now he heads back up the highway as a punting conundrum. He will almost certainly leave this form behind and do better in a kinder scenario but he will need to. The marketplace loved him on Saturday. He started 7/2 favourite despite what could have been, and ultimately was, against him.
A return to his best will still fall short of Converge, Anamoe and Hitotsu. As we head towards the winter months the bar keeps rising and Profondo has it all to prove.