3 minute read
Timeform recap the 2021 Winterbottom Stakes won by Graceful Girl.
The Team Williams and Pike juggernaut continued their stranglehold over the WA features when taking out the Group 1 Winterbottom Stakes at Ascot on Saturday.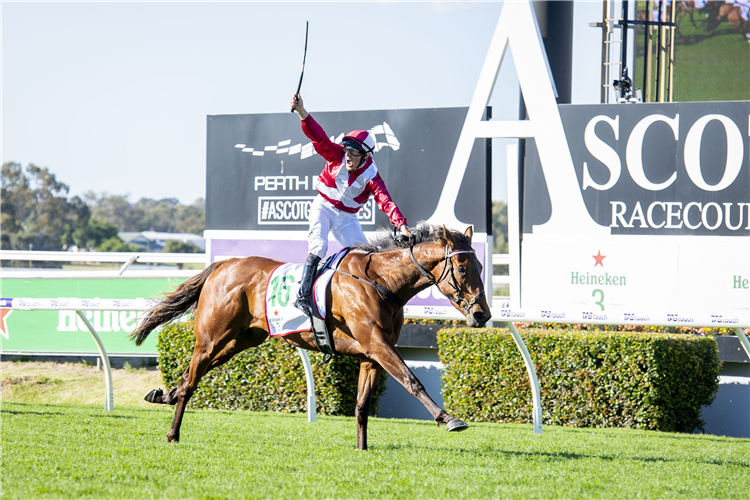 In a first for Team Williams they were able to land the feature that had eluded them in the past.
Star mares Celebrity Queen and Enticing Star had both finished second in recent years however Graceful Girl ensured they could start the celebration early when putting the race away at the 100m mark.
Star sprinter Elite Street had no answer over the concluding stages, however it was revealed post-race that he had bled from both nostrils.
After looming up as the winner approaching the 200m it explains why Elite Street stopped in his tracks.
For Graceful Girl it brought up her sixth win from 11 starts and continued her upward spiral.
Similar to previous Group 1 winners Galaxy Star and Inspirational Girl, Peters continues to be rewarded for his patience.
Galaxy Star won the Railway as a six-year-old at her thirteenth start, while Inspirational Girl won it as a five-year-old at her eleventh start.
Peters is never one to rush them, slowly bringing them along and allowing them to not only make natural progression but also gives them time to master their craft.
Neither Graceful Girl, Inspirational Girl or Galaxy Star lined up in the 3YO features, they were all allowed to build their record through restricted company.
On Saturday Graceful Girl returned a Timeform rating of 116, bettering Viddora in 2015.
Ortensia is the only mare rated higher when returning a Timeform rating of 117 when successful in 2009.
Worth nothing Celebrity Queen ran 112 in 2020 while Enticing Star ran 111 in 2018.
The lack of eastern state visitors and Elite Street found to have an issue dampen the win somewhat, however her winning margin is still significant.
Not since 1996 (French Sound) has a horse won the Winterbottom Stakes by over two-and-a-half lengths and she did it coming from last on the turn.
While Peters hasn't had the best run of luck with his horses over the past 12 months, Graceful Girl and Western Empire have quickly filled that hole and create plenty of interest if they look to travel next year.
Worth noting the Team Willams and Pike combination are on the verge of creating history this weekend with star galloper Western Empire out to give them a clean sweep of Ascot's three features when a raging favourite in the Group 1 Kingston Town Classic.