3 minute read
Timeform recap the 2021 VRC Classic won by Nature Strip.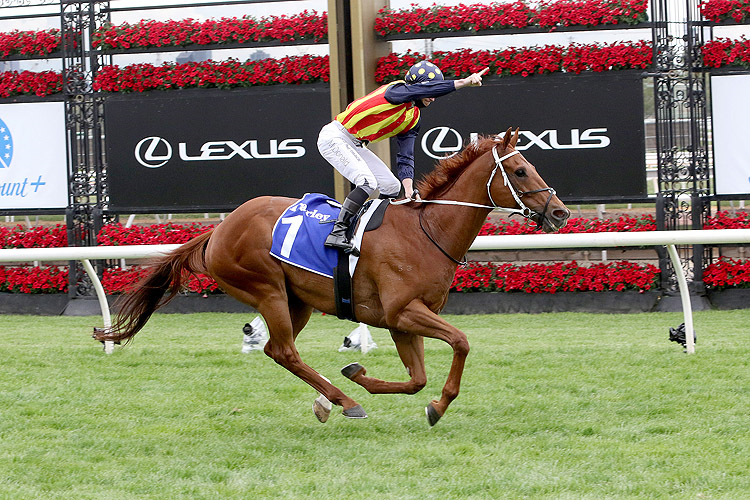 They say that history is written by the victors. Given that, history will be very kind to the 2021 Melbourne Cup Carnival.
The story of the week was one of big winners. Big, significant, 'gee wizz, get a look at that' sorta winners, across all four days. Big margins, fast times; the stuff of ratings nerds' excel spreadsheet-littered dreams.
The biggest, and the most significant, of this string of big, significant wins came on the final day and it came courtesy of both the best sprinter on the planet and the best racehorse in Australia - Nature Strip.
While Saturday's VRC Classic didn't really pull together the sort of field that race fans deserve, Nature Strip put up the performance that the race deserves; a Timeform rating of 128 the highest across the week.
There are a lot of good sprints, and plenty of Group One sprints, on the Australian calendar, but a quartet stand out: The Lightning, The TJ Smith, The Everest, and the VRC Classic.
They are the four majors. A quick browse of their honour rolls is probably enough to make that clear. A deeper investigation only confirms it.
If we accept those four as the sprint majors (and we should because I have stated it here with a great degree of confidence...) then on Saturday Nature Strip completed the Grand Slam of Australian sprinting; doing so with ratings of 126-129-127-128.
The unreliable dodgepot Nature Strip ran seven times in 2021 and never ran below 124. In fact, going back to, and including, Nature Strip's first 'major', the 2019 VRC Classic, he has run 15 times for 8 ratings of 126 or better. Put your hand into a bag of random Nature Strip performances from the past two years and you are more likely to pull out a world-class win than not.
One of the great things about horse racing - of which there are many - is that the next superstar is always just around the corner.
Relative to most other sports, a champion's time at the top is fleeting in racing. Roger Federer's era at the top of tennis is only just winding down. He won his first Grand Slam the same year that Makybe Diva won her first Cup. We've had three mares of a lifetime since then!
So, while Nature Strip's Grand Slam and Verry Elleegant's finest moment were the highlights of Cup Week, the game moves on in search of it's next champion; and Cup Week gave us plenty of places to look.
Fangirl, Home Affairs and Espiona are all a long way from accomplishing what Nature Strip and Verry Elleegant have, but the trio have a familiar look.
Familiar to Nature Strip and Verry Elleegant in that they are trained by Chris Waller and ridden by James McDonald. And like Nature Strip and Verry Elleegant, they didn't just win at Flemington, they absolutely hammered what was put up against them.
Going back 30 years, no horse has won the Carbine Club with the authority of Fangirl. Her three-length margin eclipses Saintly's 2.5 length success in 1995. The average in that span has been under a length.
It was a similar story in the Coolmore. The three-length margin at the finish to Home Affairs has been bettered once in 30 years, by Gold Edition in 2006. The average winning margin sits just over a length.
A Timeform rating of 125 marks him down as one of the race's best winners and one capable of making his mark in our four majors.
Espiona won the listed Desirable Stakes by 6.5 lengths, fairly remarkable in and of itself, and that was before investigating the sectional times.
They suggest that it was the beaten horses who were flattered rather than the winner. The margin could (even should) have been more like nine lengths! The winning margin was 4.6x the average for the race even before we consider that it could/should have been more.
Now the 'what did she beat' brigade will be out in force on this one. 'Not much' is the answer, but such margins are rare. How rare? Espiona is one of just nine to win by 6.5 lengths or more in a listed or better sprint this century.
Of course, margins and results are a function of both winners and losers. A few races this year were a little bit thinner than they might typically be -Timeform ratings for all runners across the carnival suggest as much - but the story of the 2021 Melbourne Cup Carnival will be written by it's outstanding winners.