3 minute read
Corowa based trainer Geoff Duryea boasts two of the leading chances in this year's Kosciusko with star siblings Front Page and News Girl at the top end of the market.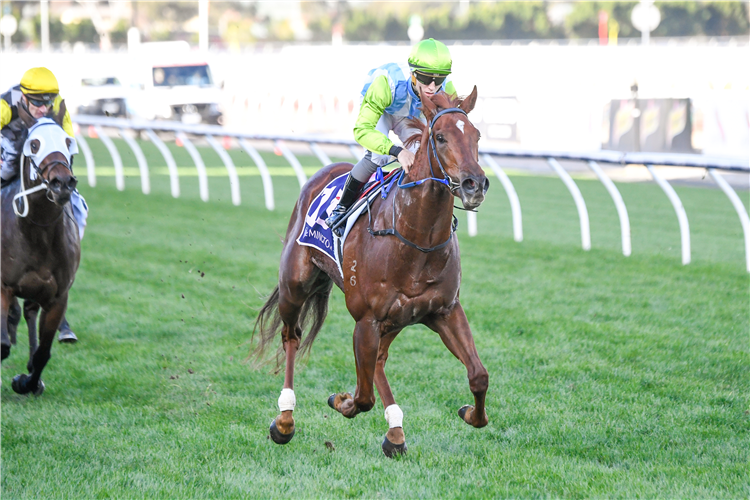 The Matthew Dunn trained Snitz is the current favourite, however don't expect that to remain if Front Page is confirmed to be heading that way.
A dominant 9.5L winner first up at Albury, he proceeded to win eased down at Wangaratta before taking a big step forward at Flemington on Saturday.
Thrown right in the deep end, Front Page lined up in the Listed A.R. Creswick Stakes [1200m] and proceeded to make a mess of his rivals.
I'll be honest when some suggested he could be as good as his older sister [News Girl], I felt they had high hopes, at the time he'd just won a Bm64, albeit very nicely, it was still a big hill to climb to reach her level.
After Saturday I don't see how he isn't the better of the two, this is where the 'feel' judges can leave the 'ratings nerds' (myself) in their wake.
Sure he had been impressive in both starts back, he ran to figure of 73 first up, before improving to run 82, but on the bare form it was still very hard to anticipate what he did on Saturday.
He was sent out at 10-1 and that is probably a fair reflection, if not underselling it a touch, in his position/set up, I would think less than 10% make that jump.
On Saturday he ran to a figure of 106 with close to a three length margin up his sleeve.
He joins the likes of Gytrash (rated 107) and Nature Strip (112) as recent winners of the Creswick, with connections hoping he can follow in their footsteps as subsequent Group 1 winners.
No real surprise to see Hong Kong come a-knocking, but fortunately for us Front Page will remain in Australia.
Fingers crossed the owners faith is rewarded in preparations to come, not sure you can put a price on winning a big race, credit to them for rolling the dice!
Rated 106 by Timeform it leaves him as the horse to beat in the Kosciuszko, his sister News Girl is also rated 106, but you'd be a brave man to suggest he doesn't have more upside.
Handle The Truth ran to a figure of 105 when successful last year, while inaugural winner Belflyer ran to a rating of a 103.


Being a listed winner Front Page is now classified as an Open galloper and would carry 59kg (after penalites), the same weight as Snitz, if he was to win a Group race prior he would go up a further 1kg while News Girl will be allotted 55kg.
Snitz is now rated 110 following his game effort behind Classique Legend and does appear well treated having already won nine races, Front Page has won four, nonetheless still happy to side with the latter.

Now sent for a spell nothing has been confirmed as to which way they are heading in the Spring, I'm sure many are hoping for their sake he doesn't head towards the Kosciusko, if he does, look out!